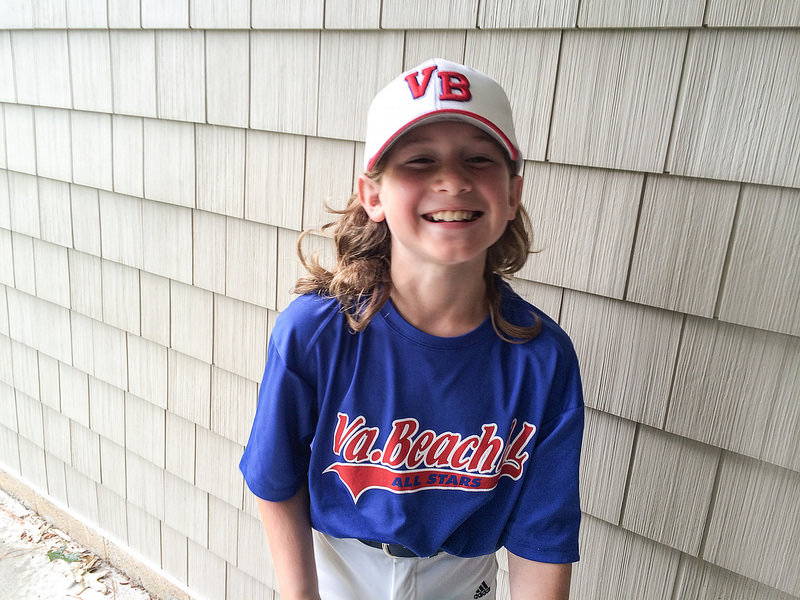 What a fantastic year Ashton had for baseball this year. His Spring Season was the best he has ever played and he had a team that played their butts off. Better yet, Ashton made the All Star Team - voted for by his teammates.
The "Road to all-stars" actually begins when the season starts. Throughout the season, players start defining themselves through their performance, attitude and leadership qualities as potential all-star candidates. Players are selected to teams according to the criteria approved by each league's Board. Some leagues let the kids select their peers (which in my experience have proved to be incredibly accurate), others let the managers and coaches select the players and some use a combination thereof. Every Little League is eligible to send three all-star teams into postseason play. There's officially a 10-year-old all-star team (comprised of 10 & 9-year-old players), an unofficial 11-year-old all-star team, comprised of 11 year olds), and an official 12-year-old all-star team (comprised of 12 & 11-year-old players). As a result, each league sends between 36 and 42 players into all-star competition. Is your child one of the 12-14 players in his or her age group that's all-star material? If so, be prepared. It's an awesome experience and one that you and your child will remember forever.
Even better than making the All Star Team? Ashton got to have his dad as the coach in regular season AND as the coach of his All Star Team. He is so incredibly lucky to have this experience with his Dad. Todd works really hard for the kids on that team, and all the kids love having Todd as their coach. I am kind of a jerk and consistantly refer to Todd as Coach Buttermaker, but he is not my coach, so I can call him whatever the hell I want!
The team made it to the 4th round of games before being eliminated. Ashton played awesome. He was the only one on the team with a perfect batting record. Every time he was up to bat, he hit. He either got on the bag, or had an RBI. He was the only one on his team to never get out at bat - no balls caught in the air and never tagged out at base. JUST AWESOME!
And last night, in the most tense of all four games... he knocked the shit out of the ball in the bottom of the 6th inning, just when his team really needed the hit!!! I am pretty sure I lost my voice from screaming so loud for him!
I am so beyond happy that he got to experience all of this during this season. What a difference it has made in him. On the way home last night, he told his dad that just because the season was over, he did not want to quit working out, that they needed to work really hard to go further in the All Stars Tournament next year. I am so freaking proud of that punk.