At about 9:30 last night, I was in my bathroom washing my face and brushing my teeth. Kaiden was asleep and Ashton was laying in my bed watching his favorite show… Chowder. I had the water running and heard what sounded like water coming from somewhere else in the house… but didn't think anything of it until Ashton started freaking out crying and yelling "it's raining in the house." Our washer and dryer are upstairs in a laundry closet - and as I came out of my bedroom, I could see water spraying out of the closet from behind the washer. The water was spraying so hard that I could not figure out where it was even coming from… I had to run and grab a towel to shield myself from the water to hop on the washer and try to reach back there and turn the valves off. I got the valves off… and I was completely soaked.
The hose from the valve to the washer had busted and soaked my entire upstairs hallway and me. To say I was freaking out would be an understatement.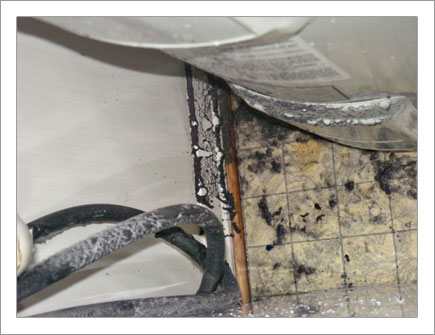 There was disgusting, wet lint from underneath and behind the washer and dryer that was now a soggy mess and was EVERYWHERE. SO GROSS!!! SO SO GROSS!!!
The carpet in the hallway was completely drenched and as I stood there in a t-shirt and my underwear, starting to cry and dripping wet from head to toe, I could hear dripping noises downstairs. I went down the first couple of stairs and looked through the banister to see this:
And this:
The water was now coming through the ceiling and the vents on the first floor and soaking the downstairs carpet too! That is when I pretty much just lost it and sat on the couch downstairs crying. Soaking wet and crying. I just really suck in stressful situations. I am not equipped to handle them. I spent the next two hours soaking up as much water as I could with towels. Todd fixed the hose today and brought a shop-vac from work to suck up the rest of the water. Fans are now blowing on the carpet. We'll see how much damage there is when it all dries out.
I hope tonight is better - although I have to take the dog to the vet… so I am not holding my breath.