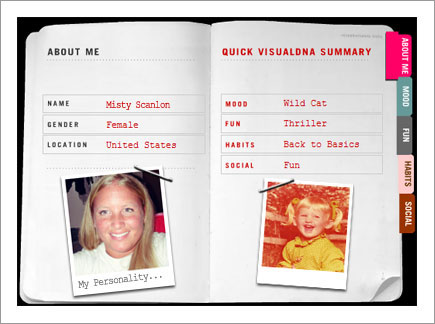 Dena posted that she took a visual personality quiz and that she thought hers was pretty accurate, so I went ahead and did mine, and I would have to agree! If you would like to test yours, you can do so here. So here is what mine said: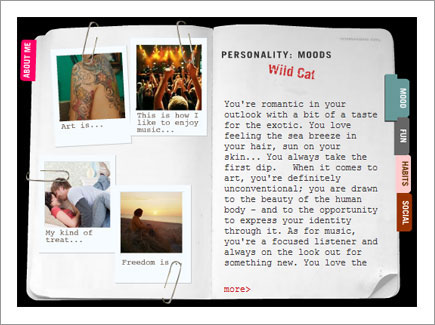 PERSONALITY: Moods - Wildcat
You're romantic in your outlook with a bit of a taste for the exotic. You love feeling the sea breeze in your hair, sun on your skin… You always take the first dip. When it comes to art, you're definitely unconventional; you are drawn to the beauty of the human body - and to the opportunity to express your identity through it. As for music, you're a focused listener and always on the look out for something new. You love the buzz you feel from watching a live performance - there's no better escape.
PERSONALITY: Fun - Thriller
You love to be far away from your everyday life. There's nothing like catching some rays and slowing down - you know how to take things nice and easy! For kicks, there is nothing like a little affection to give you a buzz. There's always so much flirting to be done! When it comes to holidays, you reckon they should always be indulgent - a very special treat and a chance to recharge your batteries in luxurious surroundings, as well as spending quality time with family and friends.
PERSONALITY: Habits - Back to Basics
You love being a little bit naughty. Nothing beats getting up close and personal with the object of your affection! When it comes to drinking, you have a taste for the exotic. You're always up for trying the local tipple when you're on holiday - it's all about fuelling the fun! As for home, you're a bit of a traditionalist. It's not about function - style is a definite priority.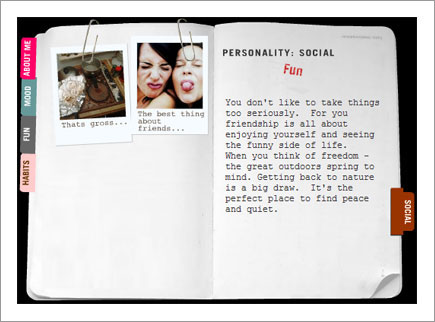 PERSONALITY: Social - Fun
You don't like to take things too seriously. For you friendship is all about enjoying yourself and seeing the funny side of life. When you think of freedom - the great outdoors spring to mind. Getting back to nature is a big draw. It's the perfect place to find peace and quiet.
To say that Dena and I drank too much on Saturday night would be a slight understatement. We went to her daughter Cristin's apartment for her birthday party/sex toy party and made the mistake of not eating very much throughout the day and then drinking heavily once we were there. I know that I personally drank an entire bottle of coconut rum and Dena drank almost a whole jug of Mojitos. I also know that we drank a whole bottle of Southern Comfort doing shots, because I was the one that opened the bottle, poured us our shots each time and I was also the one that turned the bottle upside down and deposited it into the trash can, while muttering "HOLY SHIT I can't believe we drank the whole bottle!"
During the course of all the drinking, there was a lot of fun stuff going on, like a race to see who could put a condom onto a banana the fastest without using any hands (Dena's daughter won this BTW - we were so proud), tasting all kinds of lotions and potions that do all kinds of naughty things for you and of course the passing around of lots of different vibrating and spinning toys. There was a pool that you could join in on by paying $3 for a square on this piece of paper, the winner got all the money collected - which happened to be me! So I got $72 in credit towards my purchases at the end of the night! It did not take me long to put that money to good use.
Once I did my best to clean Cristin's apartment, so that it would not be a mess for her in the morning, Dena and I decided to head to a bar near her house. We had a couple drinks there, then decided it would be fun to walk to another bar in a different shopping center, because we are idiots. It was when we were having a drink at this bar that we became painfully aware of just how drunk we really were and and that we needed something in our stomachs to soak up some liquor. That is when we decided to head towards 7-11 - fine late night dining at it's best. Apparently, when I am that drunk, 7-11 Steak and Cheese Go-Go Taquitos sound delicious (when I am sober, these are the most vile things ever produced) and are best when washed down with Lemonade (also something I would not buy sober). Dena likes chili cheese hot dogs and Kettle chips when she is wasted, in case you are wondering. We took our late night meals back to Dena's house, where we walked quietly past Adam sleeping on the couch to the back deck. As we ate our food, I took turns prank calling Adam in the house from the deck and prank calling Todd's cell phone, while he was flying home from Alaska. Both of which, made sure to remind us that we were dumbasses.
I wish I could say that I will not do this again, but we will be out this week, shopping for liquor for our Best Farewell to Summer Party EVAH, happening this upcoming Saturday… and I am pretty sure that I will be equally as drunk that night as well. Summer needs to hurry up and end, for my liver's sake!
It's easy to go to a store or go online and order flowers to be delivered to someone - and god knows I LOVE receiving them! BUT you have not received flowers until someone painstakingly opens up MS Paint (a program they have never used most likely), and draws you one with their mouse and has it waiting for you in your inbox at work. THAT my friends, rocks the casbah!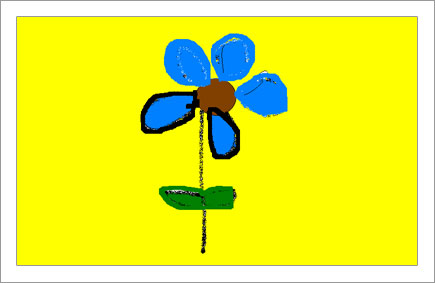 Members Only Jacket Required!
This post is protected by the soapbox.SUPERSTAR Member's Only Club.
In order to read this post you must be an approved member. If you have registered and are still seeing this message after logging in and feel like you have been hanging around here long enough to have access, just email me - I may need to bump up your membership a notch!
Login • Register Now
FLICKR PHOTOS
VIMEO VIDEOS
CURRENTLY PINNING
CURRENTLY READING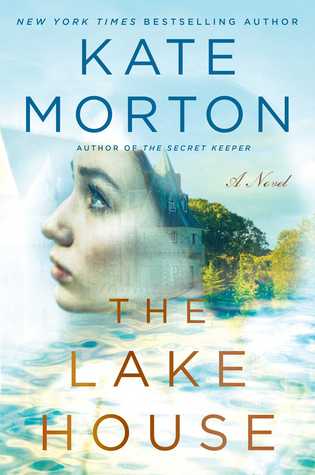 UPCOMING EVENTS
There are currently no upcoming events to show
SITE REGISTRATION
Hi. Welcome to my site. Some information on this blog is only available to registered AND approved members. Fear not, you do not have to register. There will always be entries which everyone can read. However, some of my more personal writing is reserved for only those people with the right access. Thanks for understanding. And feel free to register.
SEARCH THIS SITE