A couple weekends ago, we traveled to Clarksville, VA (about 3.5 hours away from Virginia Beach) to attend the wedding of Dena's son Stephen and his now wife, Ashley. They were engaged on 08/09/10, so the wedding was held on Saturday morning, 09/10/11. Very neat that they worked it all out that way… but I would expect nothing less from Stephen. We got into town early enough on Friday, that we were able to attend the Rehearsal Dinner party the night before the wedding at the house Dena had rented. We enjoyed delicious BBQ, coolers filled with beer, kamikaze bats, cornhole and some awesome rounds of flip cup! It was lots of fun.
The wedding was absolutely adorable, the location, the music they chose, the decorations - all of it was just awesome. I am very happy that I was able to attend and be a part of it. A cute idea they had was to include in their RSVP cards for the wedding, an area for you to write a joke or some "wedding advice" for them. They have a site where they shared all of the jokes/advice that they received back with the RSVP's. You can see all of those here. They are an adorable couple and I wish them all the happiness in the world!
Of course I cannot talk about the wedding without mentioning how absolutely handsome a one Mr. Ethan Clavier looked in his little tuxedo… very dapper… very dapper indeed!
I was talking to Nadine about the wedding one evening and telling her how it was at 10am and 3.5 hours away and I was trying to decide whether to go up the night before, or try to swing driving in the morning of, etc. She mentioned that her parent's lake cabin was about 30 minutes away from the wedding location and suggested that we just stay there. That turned into, well why don't you and Kev see if you can get rid of your kids for the weekend and come to the cabin too and we will make a weekend out of it… which is exactly what we ended up doing.
I think it took Todd approximately 2.2 seconds after getting back to the cabin after the wedding, to get out of his fancy clothes and change into his fishing clothes. The man LOVES his fishing time and along with Kev, spent the entire rest of his day in this little boat with a cooler full of beer, a bubbling bucket full of minnows and about 5 fishing rods trolling around this lake. It was the funniest thing to watch them. Two big ass men in this little boat, with a battery powered engine, going about 1.2 miles per hour and every time they looped around and passed us on the dock you could tell they were a little bit drunker. You could really tell when you had to keep listening to Todd yelling across the lake about some coon dog he had (huh?) and how he fed it dry dog food and had we seen that damn dog. It became more and more incoherent as the day turned to night, which to us was funnier and funnier. With his mouth that NEVER shut, it was amazing that they caught any fish at all. Nadine gave him the Indian name "A River Runs Through It."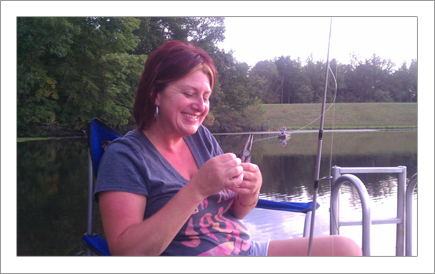 The dock is where Nadine and I spent our day, drinking our own beer and laughing. Nadine was a trooper with her fishing… especially with the dead ass bait she had to work with. We would ask the guys for another minnow and they would circle around and without stopping, pick the sickliest, deadest minnows from the bucket and throw them at us and keep on puttering along. By the time it was dark, we were all a little toasty…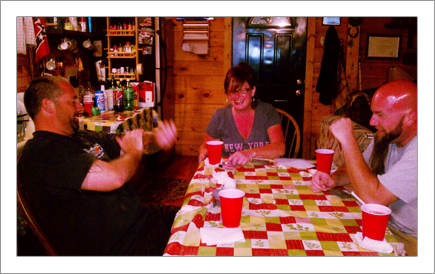 That's when we busted out the half gallon of Southern Comfort and the deck of cards and started playing some Spades. Whenever we play spades, it is always Nadine and I against Todd and Kev… and it is always us playing fair and them CHEATING LIKE DOGS… and then talking shit the whole time while they are CHEATING. Todd was the worst… dropping cards out of nowhere and swapping out cards when nobody was looking… and trying to convince Nadine with a STRAIGHT FACE that she did not throw a 10 of Clubs… and instead threw a Spade, so that she won the round and not him… since he had said he would go nil that round. That became the joke of the trip… WHERE IS THE 10 OF CLUBS TODD???? Nadine changed Todd's Indian name from "A River Runs Through It" to "Lies Like a Coon Dog."
I spent the first part of the evening all up Todd's ass about slowing down with the drinking, especially when I saw that he was drunk enough to think it would be delicious to mix Southern Comfort with boxed red wine. But the joke was on me, when we were out on the porch and all of a sudden I was completely covered in sweat (looking like Whitney Houston on crack as Nadine described it) and then puking my guts out in the woods. Apparently I was the one drinking WAY too much. I felt like hell on earth Sunday for the drive home… but who cares, it was a great weekend and well worth it!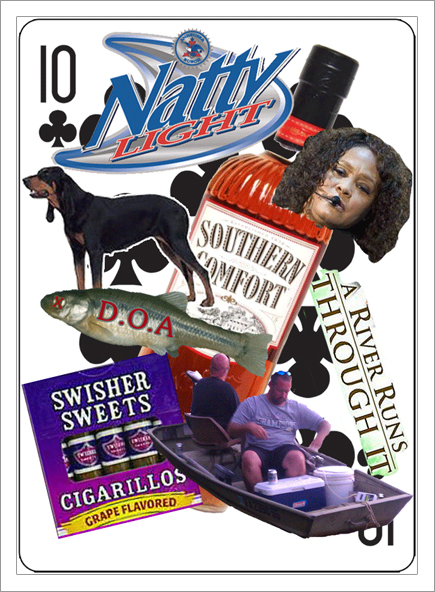 I made this little collage to send to Nadine as a reminder of the weekend. It pretty much sums it all up. Don't even ask about the grape cigarillos… it was just another thing Todd kept yelling about, just like his lost coon dog that he feeds dry dog food.
UPDATE:
Just saw this super amazing photo of Dena and I from Stephen's wedding.
That's us acting very grown-up and classy at her son's wedding. We actually ASKED the wedding photographer to take this photo so that it would show up in Stephen's photos.